Daybreak in Udi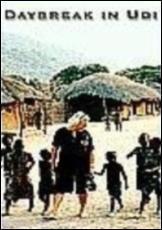 Original title

Daybreak in Udi

Year

1949

Running time

47 min.

Country

United Kingdom

Director

Screenwriter

Cast

Documentary

Cinematography

Producer

Genre

Synopsis

This 47-minute documentary, financed by HRH's government, won an Oscar in the special category, and most of it was later edited into a 1953 two-segment documentary called "Savage World" by the same crew of film-makers listed on this film. The story here is about an African tribe that is working to build a maternity hospital, with the aid of government officials, and against the opposition of some tribal members.
Movie Soulmates' ratings

Register

so you can access movie recommendations tailored to your movie taste.

Friends' ratings

Register

so you can check out ratings by your friends, family members, and like-minded members of the FA community.
Is the synopsis/plot summary missing? Do you want to report a spoiler, error or omission? Please send us a
message
.
If you are not a registered user please send us an email to
[email protected]
All copyrighted material (movie posters, DVD covers, stills, trailers) and trademarks belong to their respective producers and/or distributors.
For US ratings information please visit:
www.mpaa.org
www.filmratings.com
www.parentalguide.org
User history

1949
Terry Bishop