Cosmos (TV Series)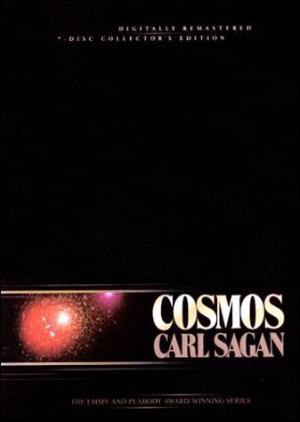 Original title

Cosmos

Year

1980

Running time

60 min.

Country

United States

Director

Screenwriter

Cast

Music

Cinematography

Producer

Genre

Synopsis

TV Series (1980). 13 episodes. Astronomer Carl Sagan leads us on an engaging guided tour of the various elements and cosmological theories of the Universe. Dr. Carl Sagan is host and narrator of this 13-hour series that originally aired on Public Broadcasting Stations in the United States. Dr. Sagan describes the universe in a way that appeals to a mass audience, by using Earth as a reference point, by speaking in terms intelligible to non-scientific people, by relating the exploration of space to that of the Earth by pioneers of old, and by citing such Earth legends as the Library of Alexandria as metaphors for space-related future events. Among Dr. Sagan's favorite topics are the origins of life, the search for life on Mars, the infernal composition of the atmosphere of Venus and a warning about a similar effect taking place on Earth due to global pollution and the "greenhouse effect", the lives of stars, interstellar travel and the effects of attaining the speed of light, the danger of mankind technologically self-destructing, and the search, using radio technology, for intelligent life in deep space.
Rankings Position
Awards

1980

: 3 Emmy Awards: Outstanding Informational Prog., Creative Technical Crafts. 2 Nom.
Critics' reviews
Movie Soulmates' ratings

Register

so you can access movie recommendations tailored to your movie taste.

Friends' ratings

Register

so you can check out ratings by your friends, family members, and like-minded members of the FA community.
Ranking Lists Position
Is the synopsis/plot summary missing? Do you want to report a spoiler, error or omission? Please send us a
message
.
If you are not a registered user please send us an email to
[email protected]
All copyrighted material (movie posters, DVD covers, stills, trailers) and trademarks belong to their respective producers and/or distributors.
For US ratings information please visit:
www.mpaa.org
www.filmratings.com
www.parentalguide.org
User history

1980
Carl Sagan (Creator) ...