Ghost in the Shell: Stand Alone Complex 2nd GIG (TV Series)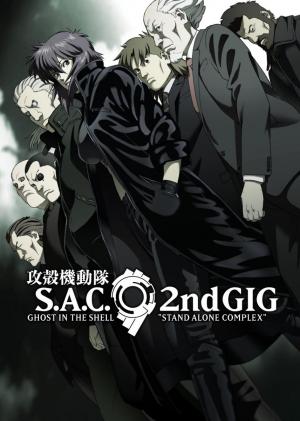 Original title

Kôkaku kidôtai: Stand Alone Complex 2nd GiG (Ghost in the Shell: Stand Alone Complex 2nd GIG)

Year

2004

Running time

24 min.

Country

Japan

Director

Screenwriter

Cast

Animation

Music

Cinematography

Animation

Producer

Genre

TV Series. Animation. Sci-Fi. Thriller. Action | Futuristic Thriller. Robots. Manga. Cyberpunk. Sequel

Movie Groups

Synopsis

TV Series (2003-2005). 26 Episodes. In a futuristic world where the internet and cybernetics has blurred the borders between societies; the members of Public Security Section 9 are reinstated to assist in solving numerous cases of cyber crime. A spate of similar crimes committed by separate suicidal groups known as "The Individual Eleven" becomes the core focus for Section 9 as war approaches in the form of refugees flooding into the country.
Rankings Position
Movie Soulmates' ratings

Register

so you can access movie recommendations tailored to your movie taste.

Friends' ratings

Register

so you can check out ratings by your friends, family members, and like-minded members of the FA community.
Ranking Lists Position
Is the synopsis/plot summary missing? Do you want to report a spoiler, error or omission? Please send us a
message
.
If you are not a registered user please send us an email to
[email protected]
All copyrighted material (movie posters, DVD covers, stills, trailers) and trademarks belong to their respective producers and/or distributors.
For US ratings information please visit:
www.mpaa.org
www.filmratings.com
www.parentalguide.org
User history

2004
Kenji Kamiyama