The Revenge of a Kinematograph Cameraman (S)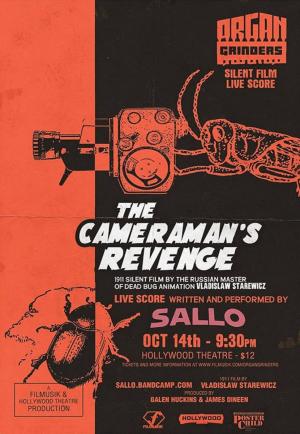 Original title

Mest kinematograficheskogo operatora (Cameraman's Revenge)

Year

1911

Running time

12 min.

Country

Russia

Director

Screenwriter

Cast

Animation

Music

Cinematography

Producer

Genre

Animation. Comedy. Fantasy | Insects. Revenge. Film In Film. Stop Motion. Origins of Film. Short Film (Animated). Silent Film

Synopsis

Mr. Grasshopper, a jilted cameraman, takes his revenge by filming Mr. Beetle and his mistress Ms. Dragonfly and then shows the results at a local cinema where Mrs. Beetle is in the audience. This was one of Starewicz's first animated films, and stars very realistic animated beetles.
Rankings Position
Critics' reviews
Movie Soulmates' ratings

Register

so you can access movie recommendations tailored to your movie taste.

Friends' ratings

Register

so you can check out ratings by your friends, family members, and like-minded members of the FA community.
Is the synopsis/plot summary missing? Do you want to report a spoiler, error or omission? Please send us a
message
.
If you are not a registered user please send us an email to
[email protected]
All copyrighted material (movie posters, DVD covers, stills, trailers) and trademarks belong to their respective producers and/or distributors.
For US ratings information please visit:
www.mpaa.org
www.filmratings.com
www.parentalguide.org
User history

1911
Wladyslaw Starewicz