Clannad: After Story (TV Series)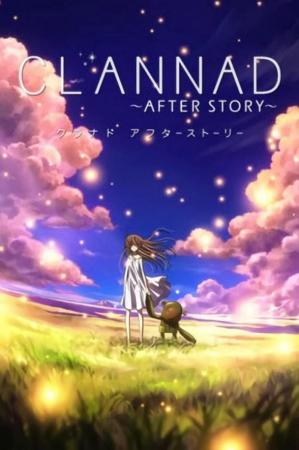 Original title

Kuranado: Afutâ Sutôrî (Clannad: After Story)

Year

2008

Running time

24 min.

Country

Japan

Director

Screenwriter

Cast

Animation

Music

Cinematography

Animation

Producer

Genre

Movie Groups

Synopsis

TV Series (2008). 22 episodes + 3 special episodes. Events in After Story take place following immediately after the first season, following after Tomoya's final semester of high school. After declaring his love to Nagisa, they begin to have a close relationship. Their life together will be faced with unexpected challenges, as the truth behind the illusionary world and the city's legend come to light.
Rankings Position
Movie Soulmates' ratings

Register

so you can access movie recommendations tailored to your movie taste.

Friends' ratings

Register

so you can check out ratings by your friends, family members, and like-minded members of the FA community.
Ranking Lists Position
Is the synopsis/plot summary missing? Do you want to report a spoiler, error or omission? Please send us a
message
.
If you are not a registered user please send us an email to
[email protected]
All copyrighted material (movie posters, DVD covers, stills, trailers) and trademarks belong to their respective producers and/or distributors.
For US ratings information please visit:
www.mpaa.org
www.filmratings.com
www.parentalguide.org
User history

2008
Tatsuya Ishihara ...