image gallery - "game of thrones (tv series)"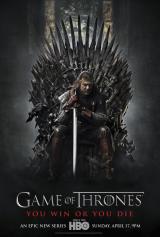 Game of Thrones (TV series)
(2011)
TV Series (2011-Today). An adaptation of George R. R. Martin's epic fantasy series "A Song of Ice and Fire," in which kings, queens, knights and renegades use swords and magic to battle for the throne. Seven noble families fight for control of the mythical land of Westeros. Political and sexual intrigue abound. The primary families are the Stark, Lannister, and Baratheon families. Robert Baratheon, King of Westeros, asks his old friend Eddard Stark to serve as his chief advisor. ...
See more
8.5

(52,729 votes)



All images are copyrighted by their respective copyright holders, manufacturers/distributors. If you see an image that belongs to you and want credit (or want the image removed), or if you can provide further information about its origin, please feel free to send a message.