image gallery - "retreat"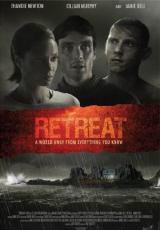 Retreat
(2011)
Kate and Martin escape from personal tragedy to an Island Retreat. Cut off from the outside world, their attempts to recover are shattered when a Man is washed ashore, with news of airborne killer disease that is sweeping through Europe.
See more
5.1
(982 votes)

All images are copyrighted by their respective copyright holders, manufacturers/distributors. If you see an image that belongs to you and want credit (or want the image removed), or if you can provide further information about its origin, please feel free to send a message.