image gallery - "the son"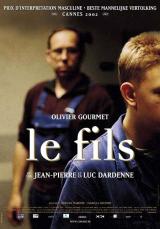 The Son
(2002)
Olivier (Olivier Gourmet), a Belgian carpenter, and Francis (Morgan Marinne), a young apprentice that a social worker wants to place with him.
7.1

(1,534 votes)


All images are copyrighted by their respective copyright holders, manufacturers/distributors. If you see an image that belongs to you and want credit (or want the image removed), or if you can provide further information about its origin, please feel free to send a message.