image gallery - "rise of the planet of the apes"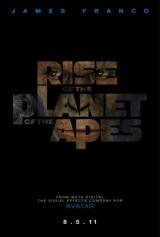 Rise of the Planet of the Apes
(2011)
An origin story set in present day San Francisco, where man's own experiments with genetic engineering lead to the development of intelligence in apes and the onset of a war for supremacy. Desperate to help his Alzheimer stricken father (John Lithgow) as well as to find a historic and profitable cure, GenSys scientist Will Rodman (James Franco) is experimenting with his new Alzheimer drug ALZ 112 on a female chimpanzee which looks promising - but ultimately fails when the chimp has to be killed ...
See more
6.7

(44,847 votes)




All images are copyrighted by their respective copyright holders, manufacturers/distributors. If you see an image that belongs to you and want credit (or want the image removed), or if you can provide further information about its origin, please feel free to send a message.