image gallery - "sur la piste du marsupilami"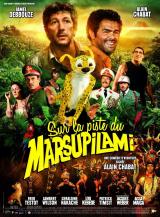 Sur la piste du Marsupilami
(2012)
When Dan Geraldo, a reporter on the look out for a scoop, arrives in Palombia, he doesn't yet know that he is about to make a most amazing discovery. With Pablito, a hugely resourceful local guide, Dan will live an exciting adventure, confront a diabolical botanist, famished piranhas, a dictator with a deeply hidden secret, the Paya tribe with an age-old prophecy, and finally reveal the most extraordinary news: the Marsupilami, the mythical and mischievious animal, truly exist!
4.4

(38 votes)

All images are copyrighted by their respective copyright holders, manufacturers/distributors. If you see an image that belongs to you and want credit (or want the image removed), or if you can provide further information about its origin, please feel free to send a message.