image gallery - "come to the stable"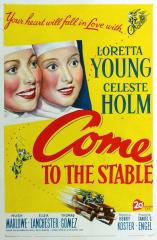 Come to the Stable
(1949)
Two nuns from a French convent arrive in a small New England town with a plan to build a children's hospital. They enlist the help of several colorful characters in achieving their dream including a struggling artist, a popular composer, and a renowned racketeer. 1950: 7 Nominations Awards.
6.0
(39 votes)


All images are copyrighted by their respective copyright holders, manufacturers/distributors. If you see an image that belongs to you and want credit (or want the image removed), or if you can provide further information about its origin, please feel free to send a message.