Image gallery - "Battlestar Galactica: Blood and Chrome (TV)"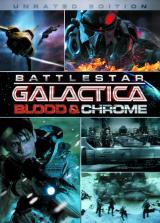 Battlestar Galactica: Blood and Chrome (TV)
(2012)
Battlestar Galactica: Blood & Chrome takes place in the 10th year of the first Cylon war. As the battle between humans and their creation, a sentient robotic race, rages across the 12 colonial worlds, a brash rookie viper pilot enters the fray. Ensign William Adama, barely in his 20s and a recent Academy graduate, finds himself assigned to the newest battlestar in the Colonial fleet… the Galactica. The talented but hot-headed risk-taker soon finds himself leading a dangerous top secret ...
See more
6.6

(305 votes)

All images are copyrighted by their respective copyright holders, manufacturers/distributors. If you see an image that belongs to you and want credit (or want the image removed), or if you can provide further information about its origin, please feel free to send a message.