image gallery - "a better life"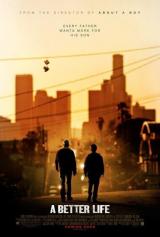 A Better Life
(2011)
Carlos Galindo (Demian Bichir), a simple, decent, 40-year-old Mexican man, doesn't ask much from life – just to keep tending the yards of L.A.'s wealthy and to give his estranged son Luis (Jose Julian) a better life than he had. But when a business opportunity that would have allowed him to take control of his destiny is stolen from under his nose, his life is thrown into chaos. Directed by Academy Award nominee Chris Weitz, The Gardener is an original, moving and, at times, heart-pounding drama ...
See more
6.7

(1,722 votes)

All images are copyrighted by their respective copyright holders, manufacturers/distributors. If you see an image that belongs to you and want credit (or want the image removed), or if you can provide further information about its origin, please feel free to send a message.