image gallery - "love affair"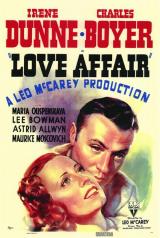 Love Affair
(1939)
While in a cruise from Europe to New York to get married with his fiancée and heir of a great fortune in USA, the bachelor sportsman Michel Marnet (Charles Boyer) meets the gorgeous former night-club singer Terry McKay (Irene Dunne), who is returning to her supportive boy-friend, and they have a love affair and fall in love for each other. They schedule to reunite on the 102nd floor of the Empire State Building six months later, on July 1st, to decide whether they should marry each other or not.
7.4

(974 votes)


All images are copyrighted by their respective copyright holders, manufacturers/distributors. If you see an image that belongs to you and want credit (or want the image removed), or if you can provide further information about its origin, please feel free to send a message.