image gallery - "if not us, who"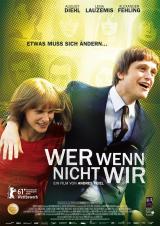 If Not Us, Who
(2011)
In the early 60s, Bernward Vesper and fellow university student Gudrun Ensslin begin a passionate love in the stifling atmosphere of provincial West Germany. Dedicated to the power of the written word, Bernward and Gudrun found a publishing house whose first publication is, paradoxically to many, a controversial past work of Bernward's ostracized father, an infamous Nazi author. Bernward defends his father's writing ability, even if he is haunted by his father's suspicious past. Gudrun, too, ...
See more
6.2
(284 votes)

All images are copyrighted by their respective copyright holders, manufacturers/distributors. If you see an image that belongs to you and want credit (or want the image removed), or if you can provide further information about its origin, please feel free to send a message.