image gallery - "days of wine and roses"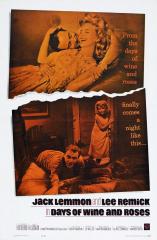 Days of Wine and Roses
(1962)
Joe Clay is a top-notch public relations man. Anything a client wants Joe can arrange for them, whether it be dancing girls or an article in a prominent magazine. Part of the job however is drinking and Joe's ability to consume alcohol seems boundless. When he meets the very pretty Kirsten Arnasen, she prefers chocolate to alcohol but Joe has a solution to that in the form of a Brandy Alexander (made up of brandy and creme de cocoa). They eventually marry but their love is insufficient to ...
See more
8.2

(14,400 votes)



All images are copyrighted by their respective copyright holders, manufacturers/distributors. If you see an image that belongs to you and want credit (or want the image removed), or if you can provide further information about its origin, please feel free to send a message.