image gallery - "les misérables"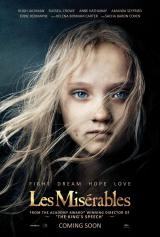 Les Misérables
(2012)
In 19th-century France, Jean Valjean, who for decades has been hunted by the ruthless policeman Javert after he breaks parole, agrees to care for factory worker Fantine's daughter, Cosette. The fateful decision changes their lives forever.
7.4

(18,040 votes)





All images are copyrighted by their respective copyright holders, manufacturers/distributors. If you see an image that belongs to you and want credit (or want the image removed), or if you can provide further information about its origin, please feel free to send a message.