image gallery - "head against the wall (the keepers)"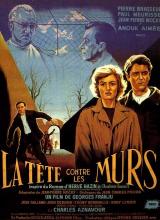 Head Against the Wall (The Keepers)
(1959)
In order to get rid of his troublesome son François, Maître Gérane manages to have him committed to a mental hospital owned by Dr. Varmont, a supporter of traditional treatments, in constant conflict with Dr. Emery, whose therapy takes the psychology of patients into account. François soon makes friends with Heurtevent, a sweet epileptic, and both decide to escape from the place. Their attempt is a failure and Heurtevent, unable to get over what he considers a return to hell, commits suicide. ...
See more
6.7

(100 votes)

All images are copyrighted by their respective copyright holders, manufacturers/distributors. If you see an image that belongs to you and want credit (or want the image removed), or if you can provide further information about its origin, please feel free to send a message.