Image gallery - "Cowboys & Aliens"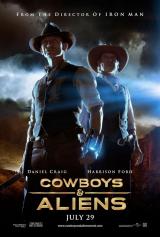 Cowboys & Aliens
(2011)
Year 1873. In Silver City, Arizona Territory, Apache Indians and Western settlers must lay their differences aside when an alien spaceship crash lands in their city. It all begins when a stranger (Daniel Craig) with no memory of his past stumbles into the hard desert town of Absolution. The only hint to his history is a mysterious shackle that encircles one wrist. What he discovers is that the people of Absolution don't welcome strangers, and nobody makes a move on its streets unless ordered to ...
See more
4.8
(14,356 votes)



All images are copyrighted by their respective copyright holders, manufacturers/distributors. If you see an image that belongs to you and want credit (or want the image removed), or if you can provide further information about its origin, please feel free to send a message.