image gallery - "a fistful of dollars"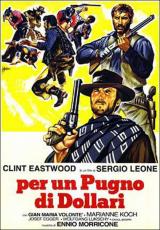 A Fistful of Dollars
(1964)
A cigarillo smoking stranger (Eastwood) rides into the Mexican border town of San Miguel, a town in which rival factions are battling for control: there are those employed by Sheriff John Baxter, who sell whiskey and guns to the Indians, and those led by Ramon Rojo. As he rides into town, the Man With No Name (occasionally referred to as Joe) is taunted by the Baxters, who shoot at his mule's feet. Upon discovering the status quo in the town from an innkeeper - and being warned to leave town as ...
See more
7.6

(17,332 votes)

All images are copyrighted by their respective copyright holders, manufacturers/distributors. If you see an image that belongs to you and want credit (or want the image removed), or if you can provide further information about its origin, please feel free to send a message.