Image gallery - "Spartacus: Gods of the Arena (TV)"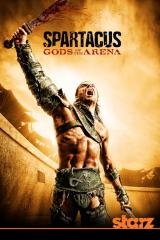 Spartacus: Gods of the Arena (TV)
(2011)
Spartacus: Gods of the Arena is a Starz television mini-series and prequel to Spartacus: Blood and Sand, scheduled to premiere January 21, 2011.[1] The series follows the character Gannicus (Dustin Clare), the first gladiator to become Champion of Capua. Cast members and characters being reprised from the original series include Lucy Lawless as Lucretia, John Hannah as Batiatus, Peter Mensah as Oenomaus, and Manu Bennett as Crixus. Andy Whitfield will make a brief appearance as Spartacus.
...
See more
7.5

(12,695 votes)

All images are copyrighted by their respective copyright holders, manufacturers/distributors. If you see an image that belongs to you and want credit (or want the image removed), or if you can provide further information about its origin, please feel free to send a message.