image gallery - "columbo: rest in peace, mrs. columbo (tv)"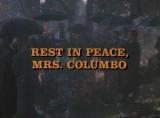 Columbo: Rest in Peace, Mrs. Columbo (TV)
(1990)
A woman who blames Lt. Columbo for the loss of her husband sets out to get back at him. But before she goes after him, she first goes after the man who informed on her husband and by showing the Lt. how it feels to lose a love one; by going after his wife.
6.6

(138 votes)

All images are copyrighted by their respective copyright holders, manufacturers/distributors. If you see an image that belongs to you and want credit (or want the image removed), or if you can provide further information about its origin, please feel free to send a message.