image gallery - "the creation of the humanoids"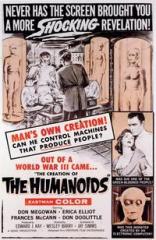 The Creation of the Humanoids
(1962)
Many years after a nuclear war destroyed much of human kind, the survivors have created a new society where much of the work done by artificial beings referred to derisively by humans as "clickers". Humans are producing fewer and fewer children and are less than a year away from having more artificial beings than humans. Most vociferous about the evolving situation is the Order of Flesh and Blood, an organization that is out to ensure that humans remain dominant. Among them is Capt. ...
See more

All images are copyrighted by their respective copyright holders, manufacturers/distributors. If you see an image that belongs to you and want credit (or want the image removed), or if you can provide further information about its origin, please feel free to send a message.